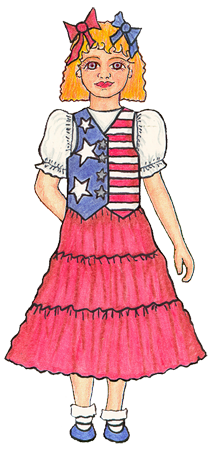 Later thoughts...
much, much, much later........
OK, I know the traditional measurement of a new president is 100 days, BUT.....
I did think about doing this at that point.
It was a crazy spring in my world. You'd think the high of this adventure would have lasted for a long time. Well, it's still there, just didn't stay quite as high as I would have liked.
On Friday, January 23, we both reported for work. I spent the day showing my pictures to my classes & trying to answer their questions. Most of the kids were interested, even those who don't like Obama at all. Several of them thought the concert was the coolest thing.
I found out that Debbie, our high school secretary, had posted my pages & emails in the office windows so kids & colleagues could see them. She also made announcements so they knew to look for new ones. Thanks, Debbie!!
MANY of our classrooms were tuned to the inauguration & most teachers said the kids were attentive. A few students had been very negative, but agreed the sense of optimism was good. I will use this experience in my teaching for many years to come.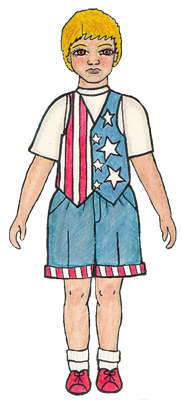 On the negative side...
Bills came in.... I'm working on projects to help offset some of those. See paper dolls below.
ICE arrived on Monday, January 26 & stayed with us for a week. Lots of trees down, electricity out (ours for only 2 days) & no school for a week. I enjoyed the days off, but the cleanup was no fun (still isn't finished) & it extended our school year to June 2. :-( I'd post some pictures, but I lost them when my laptop crashed....
After we got back to school in February, I was called to the superintendent's office & told that some school board members decided that I should not have been able to take the days as "professional development". Apparently they didn't think a US HISTORY TEACHER could possibly benefit from such an opportunity. AND I shared it with my students & colleagues & the community through the web site. There were a lot of things I could have done each evening instead of working on this! AND did a good job on TV & mentioned the district. AND I didn't ask the district to pay for any of my expenses. gggrrrrr....... So I worked extra days after school was out to make up for it.
Also negative - our principal, Ron Harvell, was demoted. That was a tough episode for our staff, students & community. I wouldn't have been able to do this trip without his support. So, thanks again, Ron! He will now be joining the Social Studies department & I'm looking forward to that. Our new principal is also a history person & I'm hopeful that our next school year will be good.
On the bright side...
Many people have come up to us, hollered at us on the street or across a store & said "I saw you on TV!" A few called us TV stars, others said they saw us on the news or in the newspapers. Nobody said anything like "why'd you waste your time on that?" Many wished they could have gone. I just kept saying it was a once-in-a-lifetime thing. Pictures of me were used in KY3 promotions for a month - it was really strange to see myself on TV so many times. I must give credit to Ray who took the still pictures showing the anchor, cameraman & me.
Lots of folks forwarded the web address to their friends & family across the country & the world. I heard from many of them & know I didn't get answers to everyone. (also lost those messages when the computer crashed...) So, if you are reading this & wonder why I never responded, that's it. Please email me again so we don't lose contact for good.
quirkysuz@bolers.net is my personal address school is sminer@bobcat.k12.ar.us
I'd never been to an inauguration before & don't know if I will get to go again. I'd love to be there for the first woman elected (preferably one I agree with) or for one of my former students (maybe they would invite me) but I can't imagine anything as moving as this grand event.
"Amazing" is still the best word I can use to explain the whole trip.
The changes that are taking place in our country & the world will continue to play out. I'm still very optimistic about the direction things are going. I hope that the rest of the world realizes what a big step the US took in electing President Obama. He & Michelle are creating a new image of what a first family can be & do & what can be accomplished. Let's keep at it!
Really cool things!
An astounding fact: there were more people on the Mall on inauguration day than the entire population of the United States during the American Revolution!
A friend forwarded the link to a family that moved away several years ago. Turns out the daughter, Cass, was in DC for the events & was staying with another BHS alum about 2 blocks from Kathleen's place. They attended an event about half a block from us AND were at the concert. I started looking at Cass' pictures & realized they were about 30 feet in front of us! Near the red & white striped hats. We might have walked right past each other & not known it. Wow, small world, even in a crowd of millions.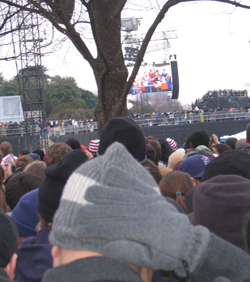 I'd love to hear from others who were there & see your pictures too. We could have had a reunion!
Thanks to everyone who helped make the trip a success! Your kindness, encouragement & responses to the web site are part of the fond memories for us both. Kathleen, we'll do it again sometime!