I love to do custom work & create something special for a person who will truly enjoy the pieces.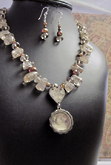 This necklace was created to display a treasured keepsake from WWII.
Click the picture to see a larger image or go to Facebook to see the story.
While you are there, like the Quirky SuZ designs page to always see the latest creations!
Due to a full-time teaching career (which I also love), there is a limited amount of time for custom creations. Sometimes we could work something out. Basically it breaks down like this: