I love to do custom work & create something special.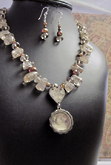 This necklace was created to display a treasured keepsake from WWII.
Click the picture to see a larger image or go to Facebook to see the story.
While you are there, like the Quirky SuZ designs page and browse around to see the latest creations!
Custom creations are worked out individually. Basically it breaks down like this: