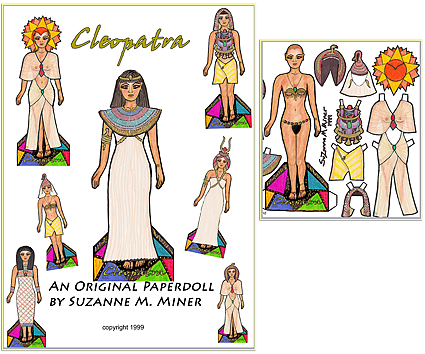 This Cleopatra is styled after a doll designed by my dear friend, Kathy. Her clothes came from a variety of reference works with a dose of my imagination thrown in. In her era, women frequently appeared nude or covered with sheer fabric or masses of jewels. Since this doll was designed for a doll club luncheon, we decided that perhaps full nudity would be frowned on. So a bit of a compromise. Women & men shaved their head & wore wigs or elaborate head pieces. She was fun to make & a real challenge too. I hope you like it!
Cover + 2 pages ..... doll & stand ..... 4 outfits ...... 2 wigs ....... 6 head pieces ..... 5 other accessories ..... instructions & information
Each doll is signed by the artist.
Suggestions for display:
Cut out doll & outfits & mat with decorative items in a frame or shadowbox.
Dress the doll in an outfit & place on a pretty piece of paper or cloth. Display in a two-sided acrylic frame with magnets that make it easy to swap outfits as you choose.
Put magnetic tape or paper on the doll & outfits for a fun display on fridge or board.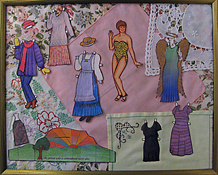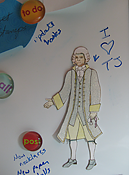 Store under construction - email for more information. Thanks!
All Quirky SuZ paper dolls are professionally printed on heavy paper & card stock. Each set is carefully packaged in a vinyl envelope & shipped flat in a sturdy package.