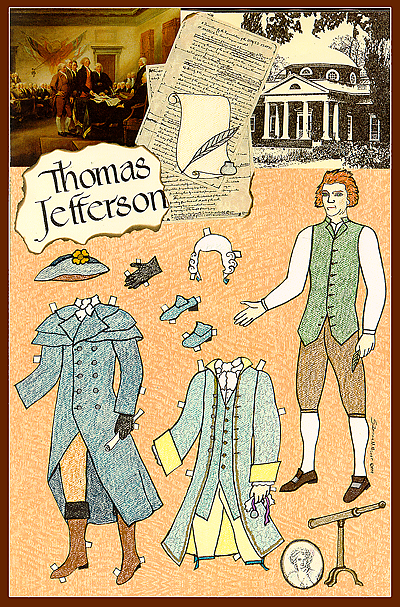 Thomas Jefferson is one of my earliest paper dolls. I chose him because I am a complete history geek. I read it, teach it, visit places, talk about it & just generally annoy people who aren't into history. Thankfully I get to teach United States' History & share that love of history with my students. I don't know that I've converted many of them, but I'll keep trying. Jefferson is one of the most interesting figures in our history & I thought it would be fun to create a doll. This doll is about 6" tall & the other pieces are quite small, so be careful when playing with them.
Cover + 1 page ..... you see the doll & 2 outfits here along with the other pictures ..... stand with instructions & information
Each doll is signed by the artist.
Suggestions for display:
Cut out doll & outfits & mat with decorative items in a frame or shadowbox.
Dress the doll in an outfit & place on a pretty piece of paper or cloth. Display in a two-sided acrylic frame with magnets that make it easy to swap outfits as you choose.
Put magnetic tape or paper on the doll & outfits for a fun display on fridge or board.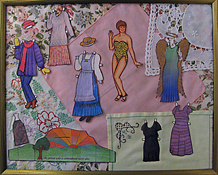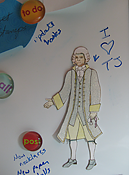 Store under construction - email for more information. Thanks!
All Quirky SuZ paper dolls are professionally printed on heavy paper & card stock. Each set is carefully packaged in a vinyl envelope & shipped flat in a sturdy package.